X-treme Rules of the X.F.L.
reviewed by Jon Duelfer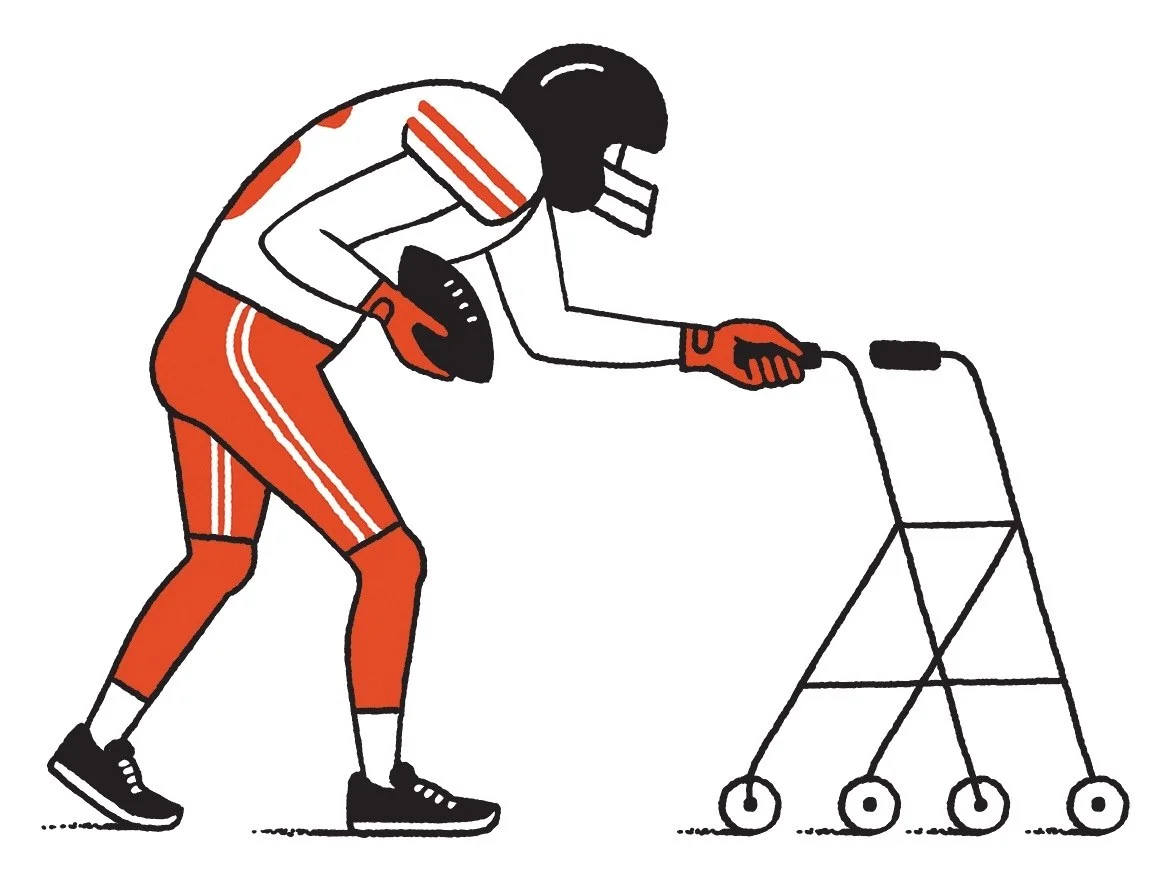 Illustration by Luci Gutiérrez
---
Who doesn't love a few cheap shots at a uniquely American sport? Even if you don't watch football, as an American, you are acutely aware of its idiosyncrasies. It's all over the news, TV shows, movies, and even an integral part of some universities.
In X-treme Rules of the X.F.L, Eli Coyote Mandel makes a fake public announcement for the return of the XFL – a less popular, more extreme version of the NFL.
The announcement is essentially a list of features that the XFL will have, with a clarifying description of that feature underneath it. You can imagine that it's something you would read on their website.
Mandatory reality television. The N.F.L. produces the HBO hit "Hard Knocks." Well get ready for the X.F.L.'s own "Knocks That Aren't as hard, but We Hope the Game of Football Is So Popular/Profitable That People Will Watch Anything Even Remotely Related to It." Coming this month to CBS All Access!
Remember the Titans, Friday Night Lights, Rudy. Football-related media is everywhere in American society. But to be honest, this phenomenon doesn't just apply to football, or only sports for that matter. Bohemian Rhapsody, Sherlock Holmes, The Theory of Everything. These are other forms of art or science that are brought into the screen because that's what modern culture loves.
Every team will be named for a racial slur. In the N.F.L., Washington is the most notable franchise marketing itself using an outdated, hateful, and ignorant phrase. Not anymore! Keep an eye of for the Seattle ——–, the St. Louis —–, and, of course, the Tampa Bay —————–.
Even if you have never seen football, and can't list any of the teams, I'm sure you are aware that at least a few teams names thta come from awful, racial slurs. As a resident of DC, I am always appalled to see the team's apparel being waved in the streets.
And finally, Mandel leaves the text with a classic dick joke.
Let's give the ladies something to look at. Hogs out fellas!
No matter the form or medium of comedy, a dick joke will always be a dick joke.
Final Thoughts
Making fun of how football is viewed in popular culture is a sure win. We all get the jokes that are being made here. Some are outright hilarious, while other fall flat, but that's kind of the nature of comedy. You never really know what is going to get people to laugh. Mandel's X-treme Rules of the X.F.L. is a great piece though.